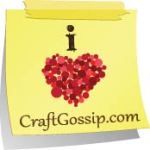 A huge "Thank You" to Connie, cross stitch blog editor at CraftGossip.com.
She featured my "Blackwork Basics" post there yesterday, September 5th.
I am honored to be recognized in this way and thrilled to know that my directions are helpful.
CraftGossip is an incredible site with some really great craft blogs.
Click below and see for yourself!
Give yourself plenty of time. You may be there a while...